Welcome to Librands, Parts & Accessories for your Morgan
Here, you can easily view image and details of our range of bespoke Morgan parts and accessories. To begin, you can start with the products pages, or read and find about new products and our Lewis Racing exploits on the news pages, as well as browsing our photo gallery.
Seen something interesting over there on the right, by clicking on one of the featured product images you will be taken directly to that product for more details.
Looking to purchase? Get started in three simple and easy steps:
Browse our range of bespoke Morgan car products
After finding the product you're after click 'add to basket' or simply 'call us'
Once happy, click 'Checkout', Finish and pay...
See, we did say it was easy...!
Librands Founder, Rob Wells can help you with technical questions & carriage charges. We can even take your card details over the phone if you prefer.
NOTE: Postage prices online are currently for UK and Europe.

For our customers outside Europe, just send us a message for a carriage quote, then pay easily by card or paypal through the web site
Just put the total amount in the "pay now" window at the bottom of the righthand sidebar of this page by my blue +8 MOG 800 picture and follow the instructions. It will come through to us as a custom payment.
Great News for Morgan owners!

Librands Unveils its New Advanced Suspension System
Rob Wells has been working on an improved front suspension system for Morgans since the early 1980s. He has now perfected it and it is available from Librands for Morgan owners. Transform your road car with a smoother ride, better grip, reduced tyre wear, less bump steering and fewer harsh shocks through the chassis.

More Information about this new Suspension System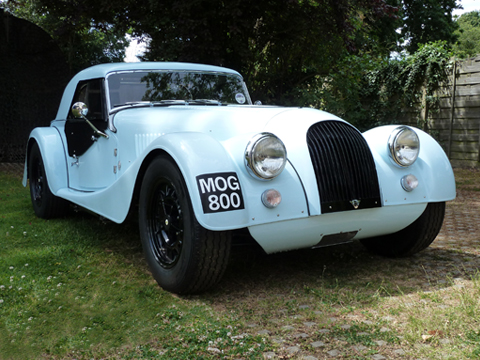 Librands Project Plus 8
---
Librands is a trading name of Lewis Racing Ltd
Director: R L Wells. Registered in England No.4834842. VAT No.828 1964 01
Address:The White House, 76 The Causeway Potters Bar, EN6 5HQ England.(visits only by prior arrangement please)
Registered Office Address: Keelings Ltd, Broad House, 1, The Broadway, Old Hatfield, AL9 5BG
email: info@librands.co.uk | Tel: 01707 662950